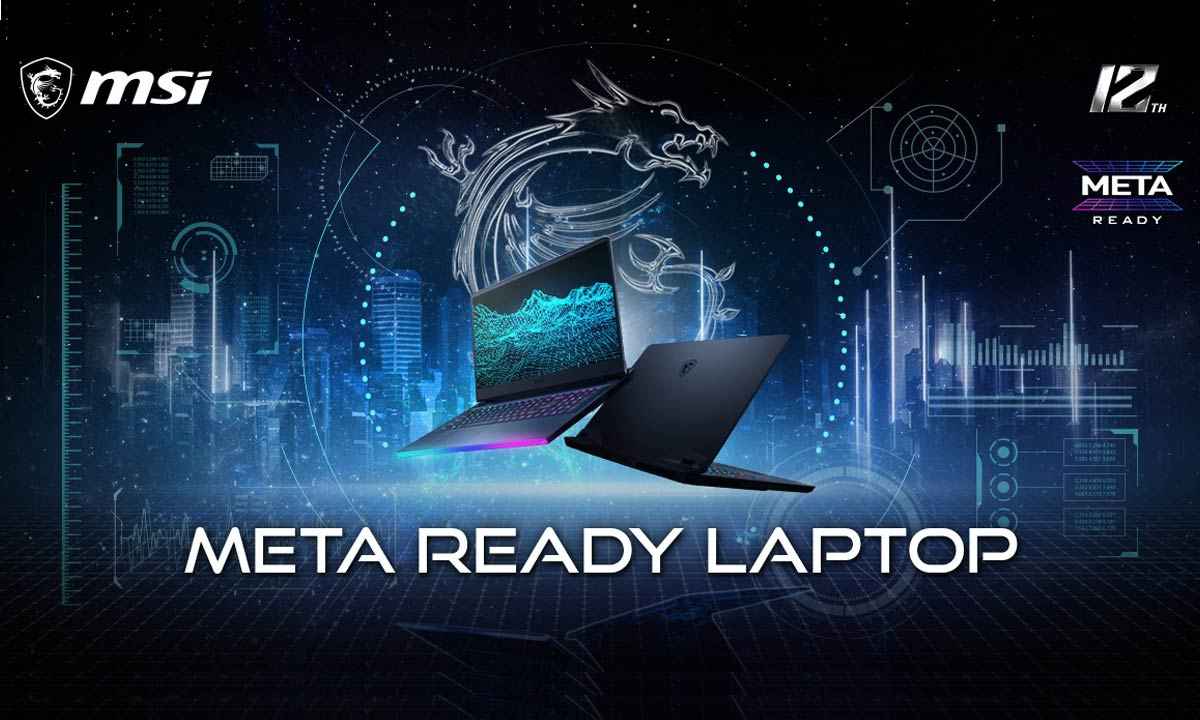 MSI's laptops are all designed to take consumers and creators across the metaverse
We are on the cusp of some of the biggest shifts in technology trends, most of which will likely converge on Metaverse, the next great computing platform after the World Wide Web and mobile. It is clear that hardware with remarkable computing power will be at the forefront of this transition that will allow billions of people to connect and socialize in real time in exciting VR and AR environments.
From games to creators and now the Metaverse, MSI's gaming laptops have always been at the forefront when it comes to meeting the latest trends in the ever-changing world of gaming and computing.
As one of the most trusted gaming brands, MSI has been pushing the boundaries of PC performance for years. The company's wide range of laptops not only caters to high-performance gamers and eSports enthusiasts, but the brand has had the foresight to prepare ahead and meet the emerging demands of all user categories. It was one of the first brands to meet the needs of creators with special platforms and now has a powerful portfolio of "meta-ready" laptops that are well positioned to help early adopters and developers participate in the metaverse as it unfolds.
The metaverse will evolve faster than expected
For the uninitiated, Metaverse is a virtual world where people from all over the world can connect. Simply put, it's a version of the internet that we don't look at or browse, but explore within. The virtual world is persistent, that is to say that it does not disappear as soon as you disconnect.
The Metaverse is driven by realistic experiences. For example, you can shop with your friends in a virtual store, choose items from a virtual shelf, pay in virtual currency, and have your purchases delivered to your doorstep. Or users could attend meetings in virtual conference rooms, play games with their friends in real time, kayak in Costa Rica and much more without leaving their homes.
However, to make these virtual experiences compelling, consumers need hardware that can drive advanced technologies such as augmented reality (AR), virtual reality (VR), artificial intelligence (AI), render powerful real-time graphics and supports fast internet connectivity with low latency.
As long as you have the right equipment, a powerful PC or a laptop, you can enter the virtual world and interact with other users without any difficulty. A leader in the gaming industry, MSI offers a line of laptops that not only allow users to experience, but also contribute to the Metaverse as a creator.
MSI Empowers Metaverse Creators
For such a vast virtual space to progress and unfold, we will naturally have to give developers interesting ideas to participate in and build on.
A compelling virtual environment requires attention to detail such as realistic avatars rendered in real time based on 3D sensor data, impactful sound, and the addition of many real and simulated elements. Developing and securing such experiences requires powerful machines.
MSI is the first to offer gaming and creation laptops to help developers create these virtual experiences within the metaverse. The company offers several reliable options in the Raider GE, Vector GP, and Crosshair series that are labeled "Meta-ready" so consumers know these laptops were designed with Metaverse in mind.
MSI recommends laptops with the Intel Core i7 H-series processor and GeForce RTX 3070 GPU for consumers and creators who want to participate in the evolution of Metaverse.
Here are some key features to consider when buying a Meta-Ready laptop:
1) Intel Core i7 H-series multi-core processors
2) Nvidia GeForce RTX 3070 or better GPU
3) Minimum 8 GB VRAM, 16 GB RAM and 512 GB SSD
3) Lightning-fast network connectivity
4) Versatile I/O ports including HDMI, Thunderbolt and USB Type-C
5) Thermal well equipped for CPU/GPU heat dissipation
Let's talk about some of the best options you can choose from to get started!
MSI GE Raider: no compromise
For ultimate performance, look no further than the MSI GE Raider. This laptop is ideal for Metaverse creators as it is powered by 12th Gen Intel Core i9 or Core i7 processors. It is also available with up to an Nvidia GeForce RTX 3080 Ti GPU. You also display options up to UHD panels. Exactly what creators need to ensure that every element of the Metaverse is perfect. No matter what the Metaverse has to offer, you can be sure that the MSI GE Raider series will deliver.
MSI Vector GP: moving forward
As the name suggests, the Vector GP series is designed to give users all the power they will need to advance in gaming, engineering, or exploring unknown dimensions. This is made possible thanks to a fairly powerful hardware. The laptop offers the 12th Gen Intel Core i7 processors, while the graphics options go up to an Nvidia GeForce RTX 3080. On top of that, the MSI Vector GP offers quite a futuristic design that goes well with the Metaverse theme. .
MSI Crosshair 15 Rainbow 6 Extraction Edition: popular with gamers
One look at the MSI Crosshair 15 Rainbow 6 Extraction Edition, and you'll know it's designed around the hardcore user. As the name suggests, the design of the laptop is inspired by the game of the same name. This includes a safety yellow color scheme which contrasts sharply with the rear laptop. In terms of performance, users again benefit from the 12th generation Intel Core i7 processor. It also offers up to an Nvidia GeForce RTX 3070, so whether it's hardcore gaming or the Metaverse, you'll be on top.
As can be seen, MSI already has the experience and technical know-how to not only access but to create the metaverse. Its Meta-Ready laptops give users a quick and easy way to know that their newest hardware is more than ready to take on the challenge of the Metaverse. With MSI at the helm, the Metaverse is closer than you think. If you would like to participate, check out these great deals for MSI laptops!
[Sponsored Post]