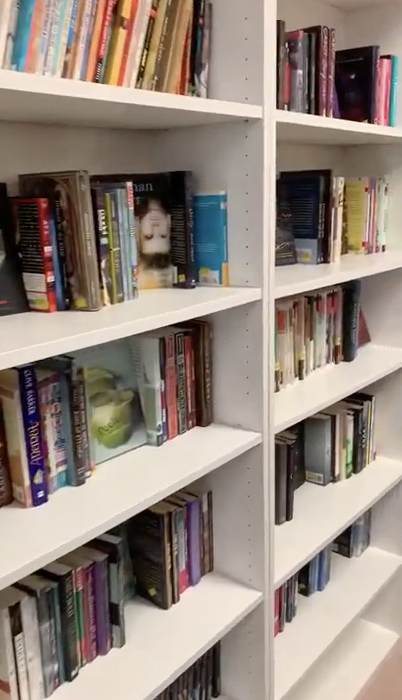 Local stores strive to preserve the bookstore experience – Grady Newsource
Soft music playing, a young boy and girl laughing and chasing each other through the colorful aisles, an older couple sitting at the bench by the door sharing a classic, rows upon rows of novels of all different sizes and genres, the smell of paper, and the promise of a good story.
In the digital age of 2021, it may seem independent bookstores are in decline. According to emarketer.com, 22% of global retail sales will be attributed to e-commerce by 2023, almost doubling since 2019. After COVID-19, the growth and use of online shopping skyrocketed even more, jumping to $26.7 trillion. With price, speed and safety in consideration, online stores like Amazon may seem to be the best choice, putting independent businesses in danger. To book lovers however, the multinational conglomerate has nothing on the bookstore experience. 
"We are a totally different beast," said Avid Bookshop's operations and events director Rachel Watkins. She confidently spoke about what Avid, a local bookstore in the Five Points neighborhood, brings to the table.
"We don't compare to them [Amazon] at all, "Watkins said.
Amazon works using an algorithm called collaborative item-to-item filtering. According to their website, "Collaborative filtering is the most common way to recommend products online. It is "collaborative" because it predicts the preferences of a given customer based on other customers.
"I don't want an algorithm to decide what I'm exposed to," said Allison Hill of the American Booksellers Association. "Amazon's algorithm tells me of books someone has paid for to have in front of me, or they recommend books based on what others are reading or what I've read in the past. But I really want to read outside of my comfort zone and be exposed to new things.
Amazon is trying to increase sales with this profit-based algorithm. However, booksellers use their know-how to sell books. With personal interactions and conversations, booksellers are more likely to understand their customers and recommend a book that they will truly like.
"I try to find out what my clients like to read," said Trish Cummings of Wall of Books. "If we buy books that we know will be interested, we take them off the shelf and keep them. "
Every bookstore in Athens brings something to the community. Avid is focused on using its privilege of influence to help others. They defend the rights of the marginalized through the books they choose to sell, the events they organize and the charities they give in return.
On the other hand, Wall of Books is a second-hand bookstore. Thanks to their eco-friendly business model, their customers can come and trade their own books for discounts on the store's used book purchase.
The locality plays a huge role and many people in Athens take pride in being able to shop locally and give back to their community.

Gone are the days when we thought Amazon was good for consumers, "Hill said. "I think there's a much deeper understanding of what's at stake.
"When you shop on Amazon, very few of your dollars stay local, as you stop by a local bookstore and those dollars are donated to your community and their jobs," Hill said.
"As a society, we need to stop thinking of these stores as just businesses," Hill said. "You know that they play this important role in the fabric of our communities which is sometimes invisible, but it's really meaningful.
After the lockdown, local purchases will allow these independent businesses to operate and contribute to the community. The National Federation of Independent Businesses said 76% of small business owners were affected in one way or another by COVID-19. Now that it's safer to reopen stores, these owners have worked hard behind the scenes to make reopening the best and safest way for their customers.
Avid and Wall of Books both have contactless pickup programs in place. Cummings of Wall of Books said she "hides" and places orders for books in customer coffers to maintain social distancing. Likewise, Avid's Watkins had a window perch and a "We Miss You" sign to greet customers as they picked up their orders during the lockdown.
Launched over 100 years ago and supporting more than 1,800 bookstores across the county, including Avid, the nonprofit association of independent bookstores, helps support independent bookstores. They help out by building e-commerce platforms for websites, advocating for small business issues, and providing general education.
"I think at one point in the pandemic, people started to realize that some of their favorite businesses were closing, whether it was a restaurant, a cafe, or a bookstore, and people thought, 'oh, wow , we are really voting with our dollars for the communities we want to live in and we had better start supporting these stores, "Hill said.
In addition to supporting the community and obtaining personalized suggestions, these bookstores are places of comfort and learning. At Wall of Books, a group of men come almost every day to sit in the store, read and converse. They come for the environment and to be surrounded by what they love.
There are so many people who come and say, "I was having a really bad day and just needed to come here and relax," Watkins said. "We have such value for our customers. "
With a sense of community and coziness, these stores are no longer just places to buy books. These are places to come to relax, feel safe and have a positive experience.
"The bookstore experience can be life changing," Watkins said. "There's something very magical about walking into a store and knowing that you're going to discover something new, because one thing independent booksellers are really good at is suggesting books. "
Erin Wasserman is a student at the Grady College of Journalism and Mass Communication at the University of Georgia.