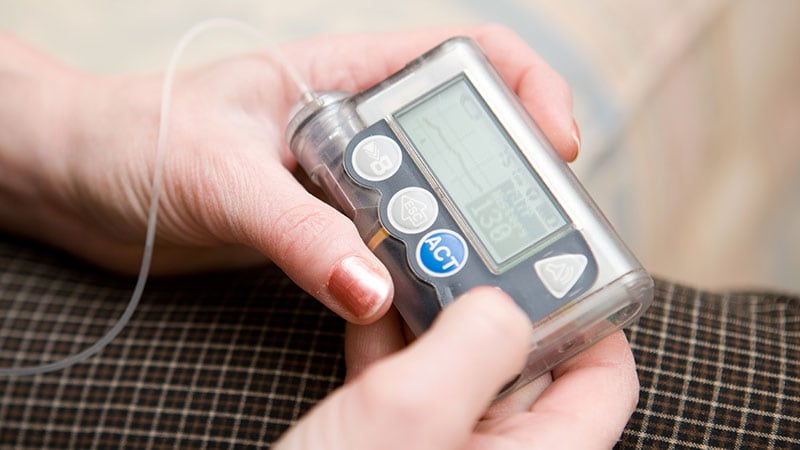 Diabetes patient creates DIY insulin delivery device
Closed-loop devices for automated insulin delivery have only been available on the French health service for a year and are not always accessible to all patients wishing to use them. This means that many people with diabetes are turning to so-called do-it-yourself (DIY) systems that use apps and software available online via open source. We spoke to Nina Tousch, who is 26, has lived with type 1 diabetes for 10 years and uses a DIY closed-loop system. Why does she use this technology? How does she use the system? What about the risks associated with using uncertified software or warnings issued by health authorities?
French edition of Medscape: How did you start using the DIY closed-loop system?
Nina Tousch: I installed the algorithm needed for the closed loop myself, with help from people in the diabetes community. The software is available for free. I didn't have to code or modify anything. I know a lot of pros say it's for nerds, but that's not true. I have no technology skills. Some well-known websites in the space provide all the documents you need and guide you through all the steps to select, install and understand the application. I found the one I use on the Apple Store and installed it on my cell phone. I also downloaded the code to install the software. It is completely free and easily accessible.
Medscape: Why did you choose the closed-loop system and why did you choose a DIY device rather than a commercial brand device?
Tousch: I was unhappy with my treatment, which consisted of an insulin patch pump (Omnipod) and an offline sensor (Dexcom). I wanted my insulin doses to be calculated, monitored, increased and reduced automatically.
I have been using this closed loop for over a year and at the time there were no other closed loop systems available on the market. Also, the closed loops that are currently supported by the French health service use tubing pumps, which I wouldn't like. My main goal was to choose a treatment that suited my lifestyle. It turned out that this closed loop met my needs and my desire to be more independent in the management of my diabetes.
Medscape: How did you make sure that the software you use is reliable and secure, even if it is not certified?
Tousch: Two main elements convinced me of this. First, members of the diabetes community. The community is huge and very active on social networks around the world. But it is above all an extremely competent and intelligent community that provides support and information. I heard about the various DIY treatment options through the community, and they were also the people I turned to when I had questions. It's a very interactive and close-knit community. This is its selling point. If you have a question, you can ask it on a Facebook group, for example. I also met people who later became friends. The community is full of kindness and support, which is truly one of a kind.
Second, I was influenced by the many articles published in scientific journals. Several studies have shown the safety and efficacy of this type of closed loop through open source automated insulin delivery systems. In September, the New Zealand trial CREATE, published in The New England Journal of Medicine , reported that the system is working safely. Last year, an international consensus statement was released and signed by more than 40 healthcare professionals around the world, most notably the International Diabetes Federation. This year, the topic was also presented at the American Diabetes Association conference. Unfortunately, information on the subject has not been sufficiently discussed. Are health professionals in France aware of this international consensus? I am not sure. However, research shows that these systems are safe and effective. Above all, healthcare professionals must respect the patient's choice.
Medscape: Have you had any issues with your DIY closed loop? If so, how did you resolve them?
Tousch: Every time I have a technical problem, it's either with the pump or the transmitter. But I never had a problem with the algorithm. If anything, since I started using it, my life has changed for the better. I spend between 85% and 90% of my time in range. For example, I am at a conference [European Association for the Study of Diabetes] this week and I'm 85% in range despite eating at irregular times and not having time to worry about my diabetes.
Medscape: What is your risk ratio? Your level of confidence with this system?
Tousch: Risk is part of the life of diabetics. Today, the risk is not so much related to the algorithm because it has been around for 10 years. Before, I had many more episodes of hypoglycemia and hyperglycemia. I would say the risk is inherent in the device, but it's the same with a commercial closed loop, and whether you have a commercial brand loop or not, you should always have a backup plan in case the pump or the transmitter would stop working. But for me, using a DIY closed loop is not a risk. The risk is waiting for the French health service to cover commercial brand closed-loop systems. What is risky is the time spent with high blood sugar or hyperglycemic episodes while waiting for this technology to be approved. That's what's risky.
These algorithms are provided by members of the diabetes community for whom safety is the number one concern. These people use the algorithms themselves or create them for their children. In fact, the researchers who created the Diabeloop closed-loop system have openly admitted that they took inspiration from the DIY community. So if Diabeloop was inspired by it, it's because the system is good!
Medscape: What do you think of the warnings issued by the National Agency for the Safety of Medicines and Health Products and the US Food and Drug Administration regarding these DIY applications?
Tousch: We cannot just ignore them because they affect patients and patient groups. It is unfortunate that these groups ignore research studies and international consensus. All the evidence is there. They must base their position on scientific evidence, but they must also consider real-world evidence (i.e. patient experience). Again, the international consensus confirms the efficacy, safety and importance of patient choice. If you as a healthcare professional do not feel comfortable, you should refer your patient to another practitioner. But the patient's autonomy must be respected.
Medscape: Have you talked to your doctor about it? If so, how did he react?
Tousch: So many patients are afraid of being rejected, written off or reprimanded. It's happened before, and it's unfair and baseless. Personally, I was lucky to have a diabetes specialist who is open, caring and aware of the benefits. She monitors other patients and she sees the benefits. She can only support me. But, even if she hadn't supported me, should I have missed a treatment opportunity because someone had said no to me?
Medscape: How many people do you think use DIY closed loop systems in France?
Tousch: There are no precise data for France or any other country, simply because many people are afraid to talk about it openly. You can make an estimate by looking at how many people have downloaded the app, but the data is unclear. I would estimate that there are around a thousand people who use this technology in France. This is based on closed-loop community activity on social media.
Medscape: Is there a specific user profile?
Tousch: There are people of all ages and from all walks of life. Some of them are diabetics themselves and others are relatives or parents of someone with diabetes. It's really interesting because these are parents who have closed-loop systems in place for their children or partners who have closed-loop systems in place for their wives or husbands. There is a real family involvement.
Medscape: Some healthcare professionals, such as Boris Hansel, MD, have pointed to the potential gap between patients with access to closed-loop systems and those without, primarily due to lack of information and education about their condition. What do you think of that?
Tousch: I completely agree. We have the support of many diabetes specialists who fully understand the benefits for their patients. But on a larger scale, information is lacking. I think it is also the responsibility of medical professionals to educate themselves on new treatment options. They need to do more than just get push-up instructions from a representative. They need to go beyond and educate themselves. They must keep themselves informed because the treatment does not depend only on the opinion of a potentially misinformed person. For me, this is what really endangers the health of people living with diabetes.
Nina Tousch is a journalist. Since 2019, she has worked on several online diabetes platforms, including the webzine Chained Diabetes and the Diabetopole site. She currently manages the patient information site Glucose Forever.
This article was translated from Medscape French edition
Follow Medscape on Facebook, TwitterInstagram and YouTube